40 years of combined experience, professionalism, quality and commitment is how COTTON SOUND successfully transformed the 100% clean, natural and quality cotton into checked, efficient and multifunctional products for cosmetic and medical usage. Therefore, the motivated and highly qualified staff, together with a team of experts from the field of biology, medicine and cosmetology use modern and sophisticated technology for design, development and production of innovative, functional, quality and safety products which provide delightful feeling of softness, smoothness and comfort. Following, on daily basis, the needs and requirements on the world market, COTTON SOUND works on upgrading and perfecting of the current, and the new palettes of products for keeping the personal hygiene, make-up removing, wet wipes, cotton medical products etc.
Blending 100% clean cotton and efficient bamboo BAMBOO COTTON DISKS stands out as a high quality product for daily and firmly cleaning of the skin. Thanks to the bamboo, the eastern symbol of youth, health and beauty, the cotton disks are rated as such with expressive softness, strength and great absorption. BAMBOO COTTON DISKS together with the products for skin cleansing are known to be the perfect solution for removing make-up and deep as well as firm skin cleansing. The package contains 70 biodegradable cotton disks for everyday care.
80 COTTON DISKS are quality cotton disks of 100% clean and natural cotton meant for daily use for skin care. By its tightness, strength and softness, the cotton disks offer comfortable smoothness while removing the make-up and cleaning the skin. The package contains 80 biodegradable cotton disks for daily care.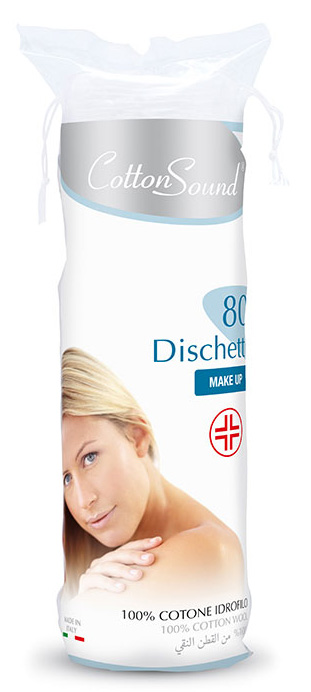 56 BABY COTTON BUDS are a secure, safe and controlled product made of 100% clean, natural and quality cotton. With the practical and adjusting design, the safety buds are useful for daily personal care and hygiene among children and adults. The package contains 56 pieces for single use.
100 COTTON BUDS are buds that contain 100% clean and natural cotton wool meant for daily personal care. Each package contains 100 microbiologically controlled buds for single use.
200 COTTON BUDS are 200 quality pieces of buds for single use and daily maintenance of the personal hygiene, made of 100% clean cotton wool.
Bacteriologically pure, with total absence of chemical additives in the production phase, they are the best that can be used for red skin. Hypoallergenic, biodegradable, with very high absorbency and tear-resistant both dry and wet. The handkerchiefs in pure cotton wool and silver micro particles can be fully considered ecological products as they are made from natural fibers and with a non-polluting production cycle.