A partner for people. For life.
1981 is the year when MICROLIFE was set up, a global leader on the market for production and development of medical diagnostic equipment for home and professional usage. The successful story of the world-leading thermometers producer starts by presenting the first advanced generation of digital thermometers which established new standards for monitoring and control of the body temperature. The innovative, modern and high-quality products by MICROLIFE provide fast, certain and meticulously correct results of measuring blood pressure, pulse rate, arrhythmia, body temperature and so on. The numerous international awards and recognitions as well as successful clients from all over the world witness of MICROLIFE prestige and quality.
MICROLIFE BLUETOOTH PATCH THERMOMETER PT 200
This Microlife thermometer is a high-quality product that incorporates the latest technology and provides fast, stable and reliable measurement. The measurement is performed every 5 seconds and is transmitted to your mobile phone application, using the Bluetooth® 4.0 function.
High-temperature alarm: Continuous audible signals (as long as the user does not accept the warning) of the Application «Microlife Thermo 24», warn that the body temperature is equal to or higher than 37.5 ° C. The standard alarm setting is 37.5 ° C.
The user can also set individual alarm points for high and low temperatures. The device performs a self-check whenever you turn it on and guarantees the specific accuracy of each measurement.
MICROLIFE MT 1751 DIGITAL PACIFIER THERMOMETER
Microlife through MT 1751 DIGITAL PACIFIER THERMOMETER has presented one of the best digital pediatric thermometers which, in a slow, smooth and easy way, provides accurate and safe follow-up of the changes in the body temperature among babies and children.
Thanks to the practical, adjustable and waterproof design, MT 1751 digital thermometer with a shape of a pacifier offers trustworthy results ranging from 32.0° to 43.9°С, with an average time for determining body temperature of 5 minutes and inserted memory.
MICROLIFE MT 1751 DIGITAL PACIFIER THERMOMETER is a dream come true for the needs, requirements and expectations of millions of parents around the world.
MICROLIFE NC 100 NON CONTACT THERMOMETER
MICROLIFE NC 100 NON CONTACT THERMOMETER is a revolutionary thermometer of the new generation of Microlife infrared thermometers which use the modern infrared technology for contactless, easy and fast temperature measuring.
As a result of the sophisticated design, the multifunctional usage and the wide practice, MICROLIFE NC 100 just in 3 seconds, with no contact, simply and precisely determines the body temperature ranging from 34.0° to 42.2°С, as well as the ambient temperature ranging from 0° to 100°С. The thermometer has inserted memory to notify the last 30 simultaneous results.
MICROLIFE BP W90 BLOOD PRESSURE MONITOR
Following the strictest world quality standards, Microlife developed a new generation of wrist blood pressure monitors, among which is MICROLIFE BP W90.
The fast, safe and immaculately accurate measures of the pulse and blood pressure, with additional warnings of heart arrhythmia are a result of the sophisticated design, numerous advanced functions and easy-to-use aspect that MICROLIFE BP W90 BLOOD PRESSURE MONITOR possess.
MICROLIFE BP W90 also has inserted memory and a possibility for noting down the results of 100 sequenced measurements of 2 separate users.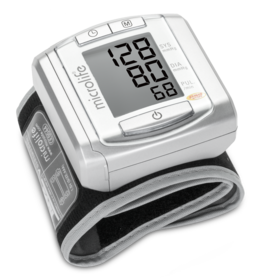 MICROLIFE FH 80 HEATING PAD
MICROLIFE FH 80 heating pad is a safe, secured and useful product meant for efficient and effective thermotherapy. Standing out with its compact and adjustable design, simple usage, high degree of safety, easy heating, 4 heating levels, which are equally divided and being automatically turned off, MICROLIFE FH 80 HEATING PAD provides efficient results while offering the greatest comfort.
MICROLIFE BP AG1-30 ANEROID BLOOD PRESSURE KIT
The aneroid blood pressure kit is a non-automated, mechanical blood pressure measuring device for use on the upper arm. It offers proven reliability and superior performance at an economical price. With the advanced non-stop pin mechanism and ergonomic bulb with complete valves, the BP AG1-30 ensure you a precise and consistent measurement. With stethoscope attached to the D-ring cuff, BP AG1-30 can be easily operated. Nevertheless, its durable nylon cuff, high-grade bearing and aneroid bellow provide consistent operation. The entire unit stores in a zippered bag for easy portability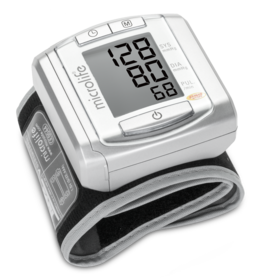 MICROLIFE BP A1 is the smallest, simplest and the most efficient automatic blood pressure monitor form Microlife. It has modern and adjustable design with PAD technology that detects all irregularities of the heartbeat. Microlife BP A1 enables precise measurements of the puls and the blood pressure in same time.
Microlife ST 77 Sprague-rapparort
The ST 77 is designed for all purposes. It includes 5-way purposes in one unit, clearly discern of all frequencies and different sizes of ear tips. With 3 spare cushions with different sizes, 3 chimes type membrane and 2 spare transparent plastic diaphragms this product enables reliable and accurate results.
Microlife BP AG1-20 blood pressure monitor kit
The aneroid blood pressure kit AG1-20 BASIC includes a high-quality sphygmomanometer and a stethoscope. It has a professional cuff and is easy to use.
MICROLIFE NEB 500 VITAL is professional Nebulizer is a high-quality device for inhaling therapies which helps with asthma, chronic bronchitis and other respiratory problems. The operating and usage of the device is very simple. All common liquid medicines can be used for inhalation therapy.
Microlife BP AG1-40 blood pressure monitor kit
The AG1-40 blood pressure kit for professional use includes a stethoscope and a high-quality sphygmomanometer for ergonomic operation and high accuracy.
The Microlife IR 150 is a clinically tested infrared ear thermometer designed for measuring body and object temperature. Superfast and accurate measurement of the ear temperature. Multifunctional. Measurement of body, objects & ambient temperature in only 1 second.
MICROLIFE WS-80 is new electronic scale that helps you to estimate your body weight. It has the capacity of 150 kilograms divided into 100 grams.
The MICROLIFE MT 800 is a digital thermometer for a fast, easy and comfortable measurement. It enables functions like: 10 second measurement, flexible Measuring Tip, fever alarm and it is 100% waterproof.

The Microlife W1 Basic is an automatic wrist blood pressure monitor with LED positioning indicator, which helps the patient to find the correct wrist position for an accurate blood pressure reading. Moreover, it is equipped with IHB technology for irregular heartbeat detection.
MICROLIFE MT 550 is digital thermometer for measuring body temperature. It can be used in different places for measurement, such as: Oral, Rectal and under the armpit.
MICROLIFE BP N2 EASY brand-new instrument is used for measuring the blood pressure for the upper arm part. Easy to use, very precise and it's strongly recommended for measuring the blood pressure in your home.
MICROLIFE BP W2 SLIM is new Microlife instrument is used for measuring the blood pressure for the ankle. Easy to use, very precise and it's strongly recommended for measuring the blood pressure in your home.
MICROLIFE MT 3001 is digital thermometer for measuring body temperature. It can be switched between Celsius and Fahrenheit, and also can be used in different places for measurement, such as: Oral, Rectal and Under the Armpit.
The Microlife IB BP A2 Basic enables a comfortable and accurate upper arm blood pressure measurement at home. This blood pressure monitor records up to 30 measurement values and is equipped with PAD technology for the early recognition of heart arrhythmias.
Microlife Oxymeter Oxy 200
This Microife pulse oxymeter is a portable non-invasive oxygen analyzer, arterial hemoglobin (Sp02) saturation and measuring the pulse rate in adults and pediatric patients.
Antimicrobial thermometer for a safe, fast and hygienic temperature measurement. Microlife presents the world's first thermometer with the implementation of copper alloy. The antimicrobial copper which is applied on the thermometer's tip and battery cover kills a wide range of pathogenic microbes, drastically reducing microbial flora on the coated parts and causes significant pathogenic microbes' reduction to the rest of the body of the thermometer. Safe measurements in only 10 seconds, has a flexible tip for a comfortable measurement.