Combining experience, tradition, enthusiasm, innovations and quality, IDEE INNOVATIVE as a creator of BRAND ITALIA, devotedly fulfills the willingness and requirements of millions of clients worldwide for 25 years in the fight against the boring mosquitoes and insects.
BRAND ITALIА's products are a result of innovative, sustainable solutions which follow the current trends for the materials' choice as well as for the practical and adjustable design, offering comfort, protection and security.
Following the quality standards of the United States Environmental Protection Agency (EPA) and the EEC safety and health directives, the company creates dermatologically and clinically tested products with pleasant odor of essential oils and practical and efficient materials.

PiddochiGo ELECTRIC COMB FOR LICE
An electric comb that goes beyond mechanical action, it removes lice with electricity. Free of pesticides or chemicals.
Usage:
– The device is used exclusively for dry hair

– Slide ON / OFF button and you will hear loud sounds indicating that things are working

– Set the comb at 45 to 90 degrees from the scalp and not refrain during it.
BRACELET MAGIC KIDS anti mosquitos for children are a new, safety and controlled product with natural scent of essential oils, pleasant for children, and irritable for mosquitos and insects. Releasing smell in duration of 180 hours, the bracelets are safe for the children's skin and they act as an efficient protection no matter whether the children are outdoors, indoors or in water.
AFTER BITE ROLL ON for usage after mosquito and insect bite is a controlled, efficient and 100% natural product, rich in extracts from calendula, peppermint, geranium, lavender, lemon grass and water. Easy to use, the roll on enables efficient and equal rubbing of the new proficient formula, calming the itching and the irritation caused by mosquitos', insects' and even jellyfish's bite. AFTER BITE ROLL ON is perfect for using by the whole family.
BRACELET JUSTICE LEAGUE anti mosquitos are a novelty on the Macedonian market which allows easy and efficient protection from mosquitos and insects in duration of 180 hours. Having a nice odour of essential oils and a practical and adjustable design, the bracelets are an efficient solution, regardless whether one wears them outdoors, indoors or in water. The modern clips with the labels of super heroes make the bracelets attractive for children and adults, respectively.

The anti mosquito sacks, SACKS MOSQUITO AWAY are an efficient product which consists of natural materials whose pleasant scent of essential oils rejects even the tiger mosquitos. The formula for gradual releasing of the smell makes the sacks easy to use, neither requiring electronic support for their use, nor ventilation after it. In each package, there are 2 practically sealed sacks which can be used in open and close rooms even up to 14 days after they are once opened.
BRACELET MOSQUITO AWAY KIDS
Anti mosquito bracelets for children BRACELET MOSQUITO AWAY KIDS are an exceptional solution for the boring mosquitos and insects. Having confirmed their effectiveness for 240 hours in numerous researches in eminent international universities, the bracelets offer efficient protection even from the tiger and tropical mosquitoes, and insects. Easily adjustable on children's hands BRACELET MOSQUITO AWAY KIDS bracelets are effective when children are indoors and outdoors, as well as when in touch with water.
MOSQUITO SPRAY TROPICAL FOR KIDS
SPRAY NATURAL FOR KIDS is natural protection agains mosquitoes. Contains pure essential oils of cintronella and lavender which is unpleasant to flying insects, flies and mosquitoes. Effectiveness tested, natural gentle formula and dermatological tested. Entirely natural product.
PATCHES MOSQUITO AWAY, anti mosquitos and insects patches are a practical solution for problems such as unwanted stings from insects and efficient protection for babies and children. The newly improved formula makes the patches waterproof, easily adjustable and useful for applying on clothes, children's beds, trolleys and all sorts of solid surface. The package contains 12 patches, and each of them gradually releases natural and pleasant scent of essential oils in duration of 48 hours.

Very practical clip with scent of essentials oils that are unpleasant for the insects. It is suitable for children and adults and it is very easy and simple to use it. The clip can be put on different places as baby carts, on clothes, bags etc. It is suitable only for outdoor use. It contains lemongrass oil as active ingredient.
MOSQUITO SPRAY TROPICAL FOR KIDS
SPRAY NATURAL FOR KIDS is natural protection agains mosquitoes. Contains pure essential oils of cintronella and lavender which is unpleasant to flying insects, flies and mosquitoes. Effectiveness tested, natural gentle formula and dermatological tested. Entirely natural product.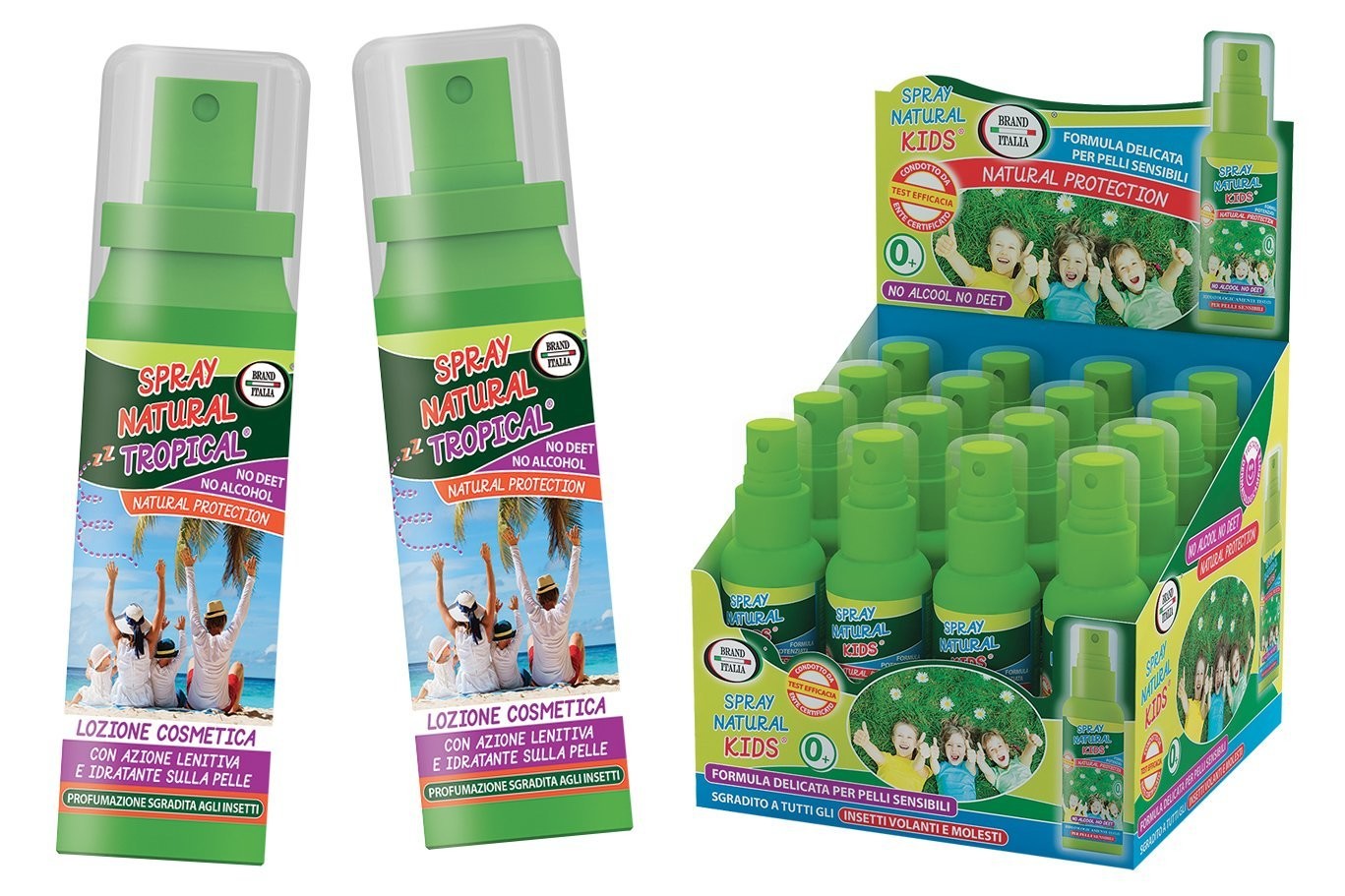 ANTI LICE ELASTIC BAND FOR HAIR
ELASTIC BAND FOR HAIR (ANTI LICE) can be worn both by male and female. That protects and prevents infection and defends the children by lice. Natural product without pesticides and with essential oils such as eucalyptus, lavender, geranium, rosemary & cloves. Microparticles contained inside the band gradually release essential oils, keeping lice away and avoiding their return.
PIDOCCHIGO ANTI-LICE PREVENTIVE SPRAY
Cosmetically preventive spray created with combination of natural herbal extracts and essential oils for protection of the hair and scalp of adults and children. It is enriched with propolis and hyaluronic acid. The spray is very is to apply, does not contain oil and dries quickly leaving behind pleasant scent in environment that is unfavorable for lice's survival. Spray it evenly on dry hair every morning especially in periods of big lice's infestation. Make attention to spray it on the neck, the occiput and behind the ears with the hair moved aside. For external use only. Keep it away from reach of children.
ACUPUNCTURE HAND BANDS FOR ADULTS / CHILDREN
Acupuncture hand bands work by applying pressure to the pericardium point 6 (P6), also called the nei-kuan point, which is located on the inside of your wrist.
How to identify the point: turn the palm up and note the position of the upper groove of the wrist. Then, place the three middle fingers of the other hand on the wrist. The nei-kuan point will be below the index finger, between the two central tendons. Place the button above the Nei-Quan point. Repeat the process for the other joint. It is recommended to wear one hand band on each wrist for greater efficiency. In the case of travel, acupuncture hand bands can be worn before or after you start traveling. If they are put on when the journey begins, you will have to wait between two and five minutes for them to be effective.
It is even more effective if you press the plastic button with your finger. Acupuncture hand bands are knitted, elastic and analgesic joint straps, which work by applying pressure to the Nei-Kuan acupuncture point on each joint using a plastic button.
Because the product is a medical device, not a medicine, there are no contraindications and it does not cause any side effects related to the usual medicines and therefore it can be worn by both adults and children.
Instructions for use: Acupuncture hand bands are suitable for relieving the symptoms of nausea and vomiting. Nausea can be caused by: travel, pregnancy or postoperatively (under anesthesia)
Product typology and contents: each box contains 2 acupuncture and bands made of allergenic fabric. Composition: 85% polyester, 15% elastane (elastic synthetic fiber).
Instructions: Acupuncture hand bands must only be used as described above. In case of nausea or vomiting due to serious medical conditions, contact your doctor. Acupuncture clamps reduce symptoms, do not work therapeutically. Their effectiveness may vary depending on individual characteristics and environmental conditions. Keep out of reach of children: there is a risk of the plastic button falling off and being swallowed. In case of side effects such as skin irritation, pain or inflammation of the hand band remove it and consult a doctor.