The pharmaceutical company DAMOR (Farmaceutici DAMOR) was founded in 1943, as a galenic laboratory in Naples, southern Italy
Today, the pharmaceutical company DAMOR is one of the most fully certified pharmaceutical factories in Italy
• In 2017, the innovative extraction process from wheat seeds (Triticum Vulgare) was developed and patented. This process is the basis of the technological development of the company, as well as its specialization in the field of natural bio-pharmaceutical preparations.
• The DAMOR pharmaceutical company fully controls the production process of the wheat water extract (Triticum Vulgare Water Extract), from the starting raw material to the final products, with fully validated and certified LQC equipment.
• The active ingredients from the specific water extract of wheat are obtained through a globally standardized and patented process.
Fitostimoline® Plus Cream
• With Rigenase® (wheat extract) and Polyhexane.
Fitostimoline® plus cream is a medicinal product consisting of a hydro-dispersible cream for dermatological use
• Fitostimoline® plus cream forms a protective barrier from the external environment by creating favorable conditions for rapid and proper re-epithelialization of the skin and contributes to keeping the microenvironment under control. The product is indicated for the treatment of ulcers, inflammations, wounds, first and second degree burns, burns, scratches.
• Intended for topical use
• Rigenase® is a specific extract of germinated wheat.
• The presence of polyhexanide reduces the risk of bacterial contamination.
Fitostimoline® Plus Gauze
Fitostimoline® plus газите се медицинско средство за дерматолошка употреба што содржи гази импрегнирани со хидродисперзи-билен крем.
Fitostimoline® plus газите, после нанесување, формираат заштитна бариера од надворешната средина создавајќи поволни услови за брза и правилна ре-епителизација на местото на повредата на кожата и придонесуваат за одржување на микросредината под контрола.
Производот е индициран за третман на чиреви, декубитуси, воспаленија, рани, изгореници од прв и втор степен, изгореници, гребнатини…односно, сите состојби каде е потребно брзо и правилно обновување на кожата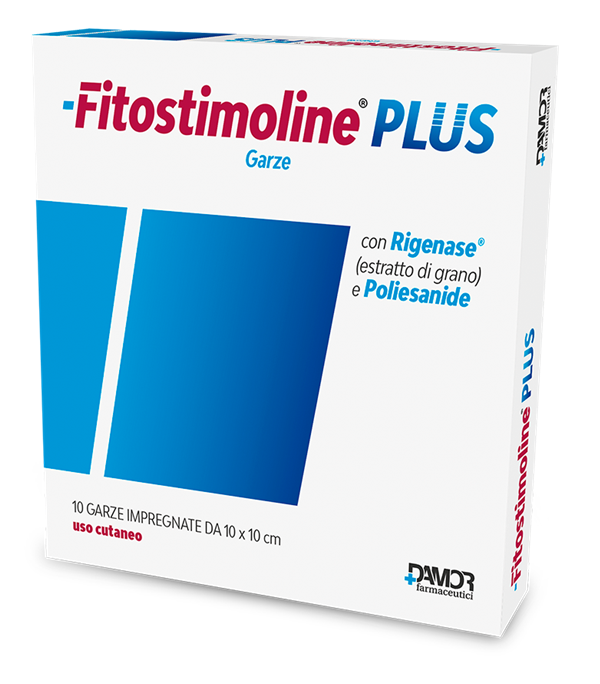 • Fitostimoline®хидрогелот, благодарение на неговата посебна формулација (која содржи Ригеназа®) формира заштитна бариера од надворешната средина со создавање поволни услови за брзо и правилно реепителизирање на кожата и придонесува да се одржи микросредината под контрола. Производот е индициран за третман на чиреви, воспаленија, рани, изгореници од прв и втор степен, изгореници, гребнатини.
• Специфичната формулација на хидрогелот, благодарение на содржината од 87% вода, го олеснува отстранувањето на изумреното ткиво преку автолиза и/или отпаѓање.
Присуството на полихексанид и киселата pH средина го намалуваат ризикот од контаминација со габи и бактерии
Jalma® гингивал гелот, благодарение на неговата посебна формулација (која содржи Ригеназа®), формира заштитен филм на лезијата, придонесувајќи за брза и правилна реепителизација на непцата и оралната мукоза и одржување на микросредината под контрола.
Производот е индициран за превенција и ублажување на проблеми со непцата и оралната мукоза:
• заболени непца
• после мали стоматолошки операции (скалирање и други специфични интервенции за орална хигиена)
• пред и по употребата на протетски и ортодонтски помагала
• во случај на мали изгореници и афти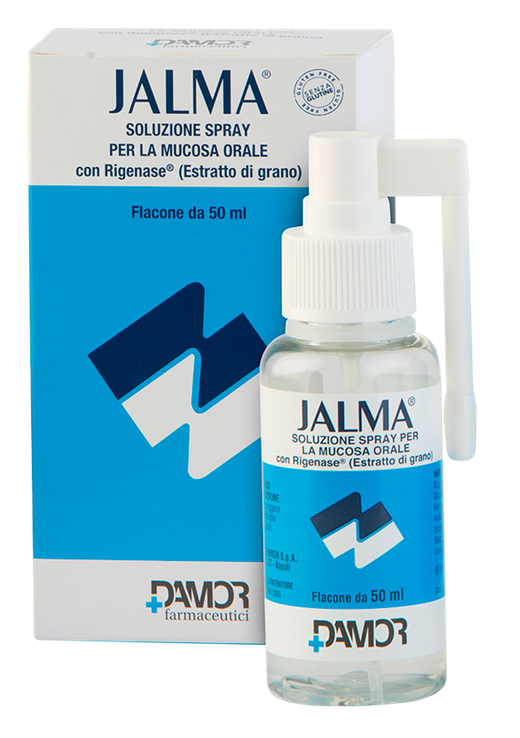 Jalma®spray, solution for oral mucosa
The product is indicated for the prevention and mitigation of problems with the gums and oral mucosa:
• diseased gums
• after minor dental operations (scaling and other specific oral hygiene interventions)
• before and after the use of prosthetic and orthodontic aids
• in case of minor burns and aphthae